Kagocel again recognized as No. 1 antiviral agent by Smartpharma Awards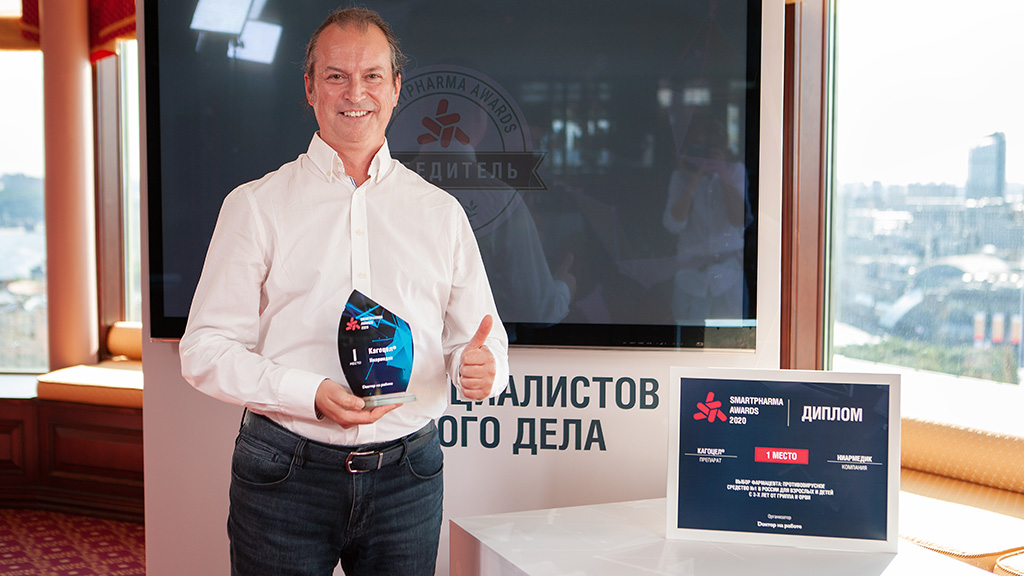 For the second year in a row, Kagocel was recognized by Smartpharma Awards 2020 as the best influenza and ARVI antiviral agent in Russia for adults and children from 3 years old. The award ceremony was held in a solemn atmosphere, but with all the necessary precautions related to the new coronavirus pandemic.
The winner in each of the Smartpharma Awards categories is selected by a vote of pharmacy professionals. According to Arkady Ivanchenko, head of the Nearmedic group marketing and advertising Department, the fact that Kagocel has once again become the pharmacists' number one choice among antivirals is an important indicator of both the professional community's and consumers' confidence in the drug.
"The key to our success has two components," Arkady Ivanchenko stressed. "Firstly, it is the drug itself, with the potential of its molecule by far not exhausted yet. Secondly, it is the team of professionals who love what they do." These two factors, according to the head of the Nearmedic marketing and advertising Department, helped to gain the trust of both consumers and specialists, which is of extreme value and importance for the company and the brand.
Video from the award ceremony: https://youtu.be/s9Qa7-p0CMs
Kagocel is a drug for the treatment and prevention of ARVI and flu for adults and children from 3 years that has been present on the Russian market for more than 15 years and is a multiple award winner at such prestigious events as Russian Pharma Awards, Green Cross, and Product of the Year.
03.07.2020 16:57:00
← Back to the list