Doctors Choose Kagocel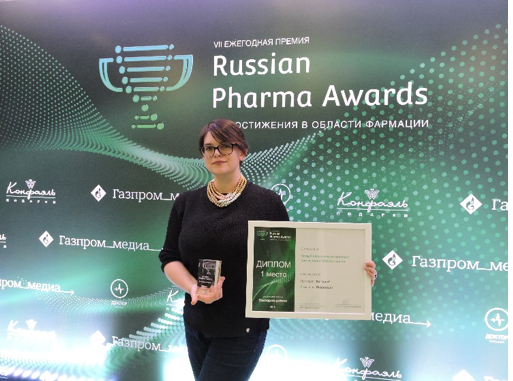 On November 29, 2018, at the 7th Russian Pharma Awards 2018 ceremony, Kagocel was again selected as the "Most Often Prescribed Drug for the Treatment of SARS and Influenza".
More than 550,000 doctors, based on their experience and daily practice, voted for the drug they prescribe to their patients for the treatment and prevention of SARS and influenza. That is why the award is considered to be the most impartial reflection of the opinion Russian specialists have about medicines. Kagocel has been winning in this Russian Pharma Awards category for the 5th year in a row, which confirms the undisputable leading position of the brand and, most importantly, proves the confidence of industry professionals in the drug .
"This year is very significant for the brand Kagocel and the NEARMEDIC company in general. A package containing 20 tablets has been introduced, i.e. now, an adult needs only one No.20 package to undergo a full course of treatment of influenza or SARS. In addition, the drug receives key industry awards, which has become traditional already. According to voting in the Green Cross award, Kagocel was chosen as the best drug for the prevention and treatment of SARS and influenza by specialists of pharmacy chains. In the framework of the Product of the Year award, the drug became the winner in the category "Antimicrobials for Systemic Use". And now, on the eve of the New Year we get another pleasant surprise: the title of the most often prescribed drug according to practitioners. This means that we are moving in the right direction. We are trusted by both consumers and specialists, which, of course, speaks about our leading position in the segment and confirms the effectiveness and safety of the drug," said Anna Dahina, product manager for Kagocel at NEARMEDIC.
Another award on Kagocel's long list of tokens of recognition* once again proves that it is not only doctors and the pharmaceutical community who appreciate the safe and efficient Russian drug, but also consumers who give their preference to this up-to-date domestic antiviral remedy.
06.12.2018 11:39:00
← Back to the list